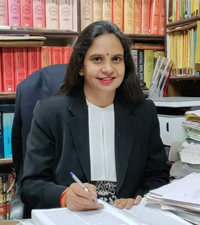 Dr. Monika Sehrawat
BCA, LLB, LL.M, Ph.D. (Law), Diploma in Intellectual Property Law, RTI ACT
Dr. Monika is a passionate Lawyer and Academician.  She comes with 16 years of work experience in the fields of Litigationand Academics.
She has worked with Trade & Corporate Jurist (A Leading Law Firm) as "Legal Retainer" and in Quest-Lex Law Firm as "Advocate". She has been an active litigation practioner regularly representing clients in various matters before different courts/forums, viz., High Courts, Consumer Forums, Civil and Criminal Courts, Tribunals, and statutory authorities. She is an expert indrafting, especially applications under C.P.C, Agreement of sale, Sale deed, Undertakings, Rejoinders, Replications, Written statement and Affidavits, Civil Suits, Petitions, and Complaints, Appeals, and Writs. She also has experience of participation before the Arbitrators and Tribunals.
She has worked in DELHI METRO RAIL CORPORATION as "Legal Assistant" where she examined the issues involved in the Writ Petitions/Court Cases, reviewing of Contract and related documents.
She has worked in D.E.S. Shri. NavalmalFirodia Law College, Pune and S.N.B.P. Law College as Assistant Professor.
She has an in depth understanding of the subjects to be taught with ability to convey the same to the students.